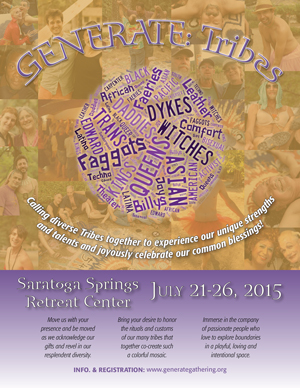 Being asked to help with promotional materials for an LGBTQ group was an honor. After collaborating and designing with one of the members of this group for many years he recommended we assist with the production of their advertisements and online flyer PDF graphic design.
As many people were involved in providing information, content, images, and artwork it required wearing a lot of hats to coordinate the look into a cohesive whole. Having wonderful images made all the difference, as the love shown through with our ideas and the collaboration of all the directors.
We came up with multiple graphic design concepts and various photo collage styles for review. The typography, layout, and proofreading wouldn't have been possible without the assistance of the editors and promoters, as the content was multi-layered and included philosophy as well as event schedules and pricing. This 6-page interactive PDF with hyperlinks was attached to an Email Blast for all to share and print for promotion.
The interactive email flyers also included hyperlinks to make reservations at the venue and connect to the Generate: Gatherings web site. Their complete marketing package included an online web banner and printed call postcards.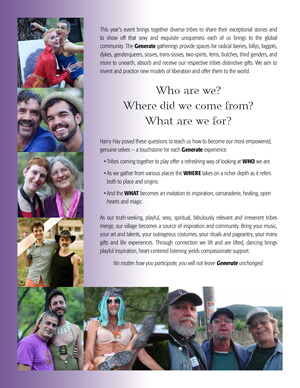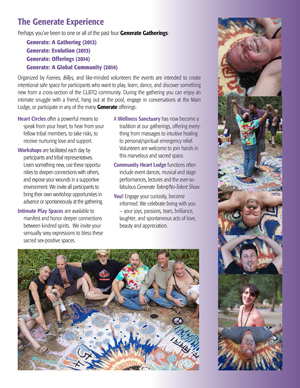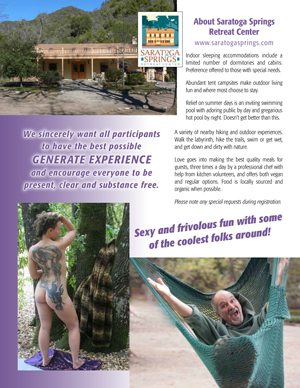 Client Testimonial
April 14, 2015
"I've worked with many graphic designers over the years and I have to say Phyllis was a breath of fresh air. While we changed directions many times for our flyer, postcard and web collateral, and working with a design committee — all amateurs — cannot be easy, Phyllis was patient, understanding and completely flexible. She took all our ideas with aplomb and incorporated everything into the final product beautifully. I wouldn't hesitate to work with her again and again."
Chas Nol — Managing Director of Sarasota Springs Retreat Center
GenerateGathering.org