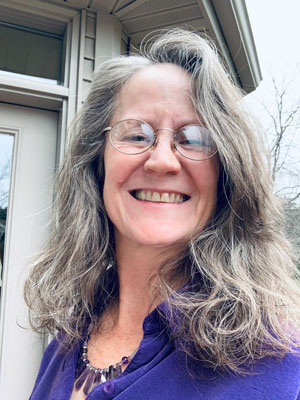 Phyllis Peterson
Founder and Design Director
I began my professional career as a traditional cut-and-paste artist for newspapers and magazines in the early 80s. Arriving in Boston, Massachusetts in 1985 my freelance career focused on corporate educational publishers, including Prentice Hall, Silver Burdett and Ginn and Simon and Schuster. Working with various companies as a temporary composition artist, book design became my next goal. I quickly began to improve my graphic design and production skills and became unstoppable once desktop publishing software was introduced to the art world.
I migrated to San Francisco, California in 1995 at the urging of my mentor and good friend, Andrew Walker, to begin working with the software manual publisher, IDG Books Worldwide, in Foster City. Many incredible books came out of that design/production group about the newest software products and networking services. The IDG work experience honed my skills with management, project coordination and scheduling; as well as design, templates, production, proofreading and quality control.
testimonial from andrew walker, my first mentor

"I needed help in 1995 and Phyllis was the first person I called. My job was to build a high quality production group quickly so I called the best publishing person I knew. Phyllis not only came to help, she left her home and flew across the country to help. This is the type of dedicated professional and friend she is … [ Read more ]
Inevitably I fell in love with San Francisco's East Bay and moved to the Oakland Hills. While living there under the magnolia trees I realized that it was time to branch out and start my own book design company — Magnolia Studio. My new company looked down on that beautiful "city by the bay" that I loved so well. My office space moved to North Berkeley and later to a larger space in Emeryville as I expanded my client list. Magnolia Studio moved north again to Sonoma County, California in November 2001 to design amongst the apple orchards, grape vineyards, redwood trees, the Russian River, and the incredible Pacific Ocean.
Diversifying is the name of the game in order to stay economically viable and relevant, and so Magnolia Studio has blossomed and produces much more than just books. In 2010 I enrolled in a web design course at Santa Rosa Junior College taught by Muiz Brinkerhoff, and by the end of the course we decided to begin a creative collaboration of my graphic arts skills, and Muiz' web-tech experience. Our professional collaborations which have produced seven unique, custom websites, also gave rise to a strong friendship, and a wonderful cross-pollination and evolution of our different skills which makes for excellent team work with Magnolia's clients.
In April 2020, Magnolia Studio relocated, once again, to northern Wisconsin. It was a difficult decision leaving beautiful Sonoma County, but between the ever-increasing cost of living, and the almost constant wildfires, and floods, it seemed the most practical choice to make. Magnolia Studio is now thriving in our virtual offices located in New London, Wisconsin. Our services include graphic design, book design, web site design and maintenance to assist in marketing the design products we create for our clients, as well as alternative products such as interactive PDFs and Ebooks.
My greatest joy is helping new authors find their voices and see their books published. We hope to continue helping the earth, the community, and other writers and artists for many decades to come.
Peace!
Email: info@magnoliastudio.com
Hours: 8am to 6pm CST
Phone: 707-480-8153