Organic Cannabis Foundation, aka OrganiCann™, was the first medicinal cannabis dispensary in Sonoma County, California. They support and encourage the legal sale and distribution of medical cannabis as well as helping their patients with their medicinal needs. They also sell seeds and plants, and offer classes to patients and their providers on the efficient and abundant growing of their own medicine. Meeting and working with them was a very enlightening and enjoyable experience.
After working with OrganiCann™ using company branding to produce newsletters and other print media products, I was asked to create a "diner-style" product menu. They wanted a large fold-out glossy menu that included a photo of every food item for sale, along with the full range of other products in their dispensary. These product menus were distributed in the dispensaries and at music, art, and hemp festivals throughout California. [ … Read More ]
Dona provided digitial logos, background images, and individual photos of the food and plant products. I coordinated the image photography, art edited multiple image choices, created silhouetted images and other necessary image manipulations. I also conceptualized the cover design, provided proofreading, and copy-editing, and arranged for printing and folding with the printer.
I eventually created two product menu designs: a full-color, 17x11 inch, glossy, quad-fold and a full-color, 17x4 inch, seven-fold mini version. Both featured prescription only medicinal cannabis products available at the OrganiCann™ dispensaries in California. These products included foods, candies, teas, honey, seeds, plants, manicured medicinal cannabis, concentrates, ingestibles, and topical salves and massage oils.
(See also the OrganiCann™ Print Media Advertising and Cultivating Wisdom: How To Make Cannabis Cuttings Portfolio Item pages.)
[ Read Less ]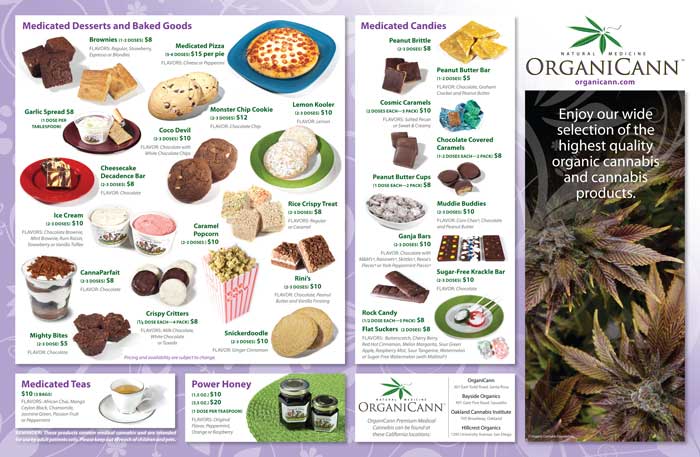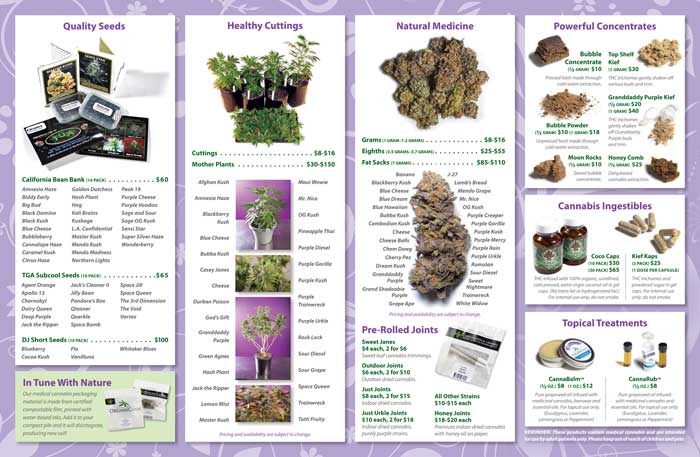 Client Testimonial
December 12, 2011
"Take a look at the creative work Phyllis does. Her professionalism speaks through her lovely designs. You can't go wrong working with Phyllis... highly recommended!!!"
Dona Frank — CEO of The Natural Cannabis Company™
NaturalCannabis.com