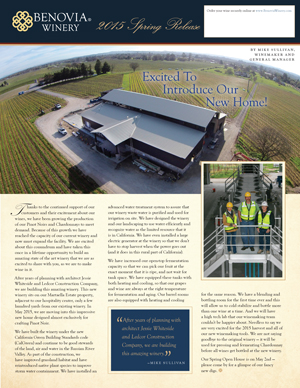 I was asked to update Benovia Winery's 4-page Spring 2015 Release Newsletters and Product Sheets for all wines. The existing digital files needed to be updated with new text and images provided by the client. In general, multiple problems often arise with previous digital files produced in an older version of the software, and this project was no exception. I updated the newsletter logo to the current version which the winery had been using for some time. I was asked to add new bottle images and change all drop shadow artwork to avoid problems at the printer.
After brainstorming with the staff about a newsletter photograph to feature their new building, a drone with a GoPro camera attached was enlisted by the winery to take the incredible image shown here. All newsletter text was updated and typography adjusted to fit the available space. I also coordinated with the printer about folding and automatic mailing list addressing of each 11x17 inch newsletter. The folding created a 5.5x8.5 inch mailer that was sent out in advance of the Spring Release to customers on their mailing list.
The Product Sheets for each varietal are updated each Spring and Fall for the New Releases. The 8.5x11 inch full color prints are shared with visitors to the winery for tastings. The Product Sheets were also updated from old digital files and used as online downloadable PDFs available from the web site.