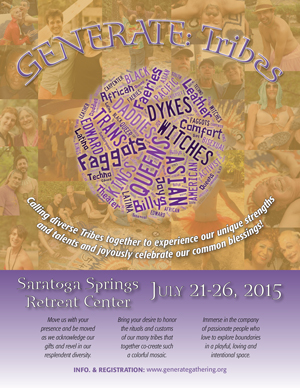 My long-time friend and design partner, Muiz Brinkerhoff of Inside Skills, recommended me to assist with the production of the 2015 Generate: Tribes Gathering advertisements and online flyer PDF graphic design. Being asked to help with promotional materials for an LGBTQ+ group was an honor.
As many people were involved in providing content, images, artwork, and ideas for the various promotional materials I needed to wear many hats in order to successfully shepherd each project into a cohesive and consistent whole. Having wonderful images made all the difference, as they captured the joy of the participants and embodied the ideals and goals of the specific gatherings. [ … Read More ]
The complete marketing package included web graphics, logo, banners, and Gathering Call Flyers. The various interactive Call Flyer PDFs included hyperlinks to make reservations and connect to the Generate Gatherings web site and were utilized as Email Blasts intended for all to share and print for additional promotion.
Subsequently, I was rehired to design and produce the promotional materials for 2016 Generate: Harmony Gathering and 2018 Generate: Antidote Gathering. Each time I was delighted with the group's photos, concepts and philosophy. Working with these wonderfully creative individuals continued to produced dynamic results.
[ Read Less ]
---
Client Testimonial
April 14, 2015
"I've worked with many graphic designers over the years and I have to say Phyllis was a breath of fresh air. While we changed directions many times for our flyer, postcard and web collateral, and working with a design committee — all amateurs — cannot be easy, Phyllis was patient, understanding and completely flexible. She took all our ideas with aplomb and incorporated everything into the final product beautifully. I wouldn't hesitate to work with her again and again."
Chas Nol — Managing Director of Sarasota Springs Retreat Center
GenerateGathering.net