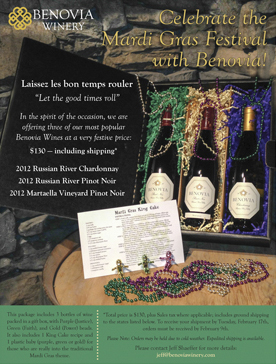 I jumped at the chance to take a photograph that would be used as an 8.5 x 11 inch email PDF flyer for a Mardis Gras Gift Box Wine Sale. What better place to take the photo than a local Sonoma County wine cellar? The photograph included the wines in a gift box surrounded by Mardi Gras beads and a traditional recipe for King Cake — including the plastic babies that are hidden in the cakes to be discovered at the party!
That flyer turned out so well that they asked us to produce another for Mother's Day featuring photos of the winery founder's mothers with the lovely wines. I set up the wine gift box in a Russian River garden with jasmine flowers. The typography was designed using a very ladylike font which complimented the antique photo frames and creamy lace background, giving an overall soft feeling. Both PDFs were sent to Benovia's email customers for viewing as a download or for printing out to share.
I also produced the email web banner utilizing many of the elements from the Spring 2015 newsletters. This banner was sent to Benovia's email customers opening their Spring 2015 messages and product sales. Maintenance was performed on the winery's CMS web site in partnership with Inside Skills.