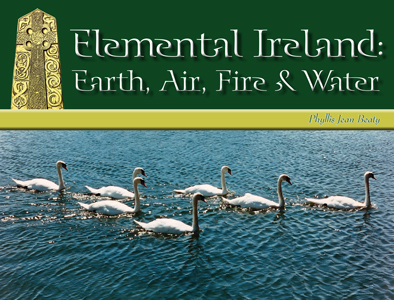 During my Adobe InDesign certification classes at Santa Rosa Junior College, my final project was to produce an original book using the Adobe Suite. This book utilizes my photos taken in 1990 on a holiday and road trip throughout County Galway, County Clare, and the cities of Galway and Dublin in Ireland, as well as my text written during the production of the book.
The text relates my adventures on that wonderful island and blends with the photos to depict how Ireland is uniquely composed of the basic elements of our planet. I created symbols for each of the four chapters — earth, air, fire and water — using their color schemes throughout each chapter. The photographs were minimally enhanced with Photoshop, and green really is that green in Ireland! [ … Read More ]
Twenty years after my visit I printed copies for family and friends in the USA and Ireland as a 40-page, 10x8 inch, spiral-bound, coffee table style book.
I feel that this special labor of love for the Emerald Isle may well be one of my best works. As it combines my well-developed sense of composition and layout, my acute sensitivity to typography's visual and emotional impact, along with thirty-seven years of hands-on experience in the print graphic industry producing high-quality volumes for others.
[ Read Less ]