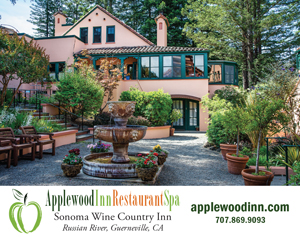 Applewood Inn, Restaurant, & Spa is a lovely 1930s-era Russian River, California gem. They hired me to design several print advertising items to be used in various local newspapers and magazines. I used their existing green apple logo and a selection of their beautiful images of gourmet dishes created by their new chef.
The restaurant and food photography was so stunning that placing the logo, slogan and contact information in just the right spots was a challenge! I also created an event banner for wine tastings, marketing flyers, and a tri-fold restaurant brochure to promote their new chef and management. I was required to proofread all of the ad layouts, obtain printing estimates for specific items, and coordinate with various publishers to provide time-sensitive delivery of the required sizes and formats.
The brochure was an intriguing project, as it had an unusual size and shape. This piece folded into a nice size to hold in your hand, and it had a lovely sense of original gourmet food in a casually elegant setting. These brochures were distributed throughout wineries in the Sonoma County, Russian River Valley Wine Region for the Spring 2015 wine release.
UPDATE: The Applewood Inn is now reborn as The Stavrand of the Russian River Valley