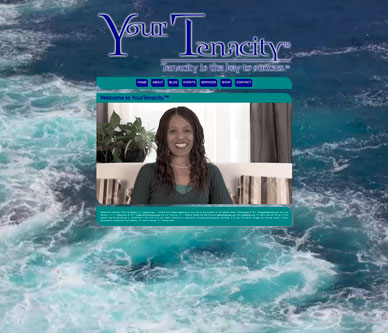 After working extensively with TJ to develop her company branding (see TJ Johnson-Kea Branding) we selected the necessary elements for her own web site and with expert assistance from Muiz Brinkerhoff of InsideSkills.com we designed the YourTenacity.com web site.
Because TJ envisioned a really dynamic web site, Muiz combined a background video of tumultuous ocean waves with TJ's motivational intro video for her home page. Using the color palette and logos that we developed for her branding, we designed five additional pages: an About biography, a Blog, an Events page (with a secure PayPal button) where visitors can purchase tickets to her speaking engagements and in-person talks, a Services page to promote her speaking and empowerment classes, a Shop page for her upcoming book Who Do You See In The Mirror? and a secure Contact page.
Client Testimonial
September 24, 2020
"Since 2015, Phyllis has worked with me on various projects. Not only is she assisting me with my first book manuscript but she also helped me with the branding of my company. She doesn't believe in constricting what you envision as an entrepreneur. She understands the importance of getting an idea out of your head and onto paper. She understands the importance of allowing you to expand and constrict a visual idea in your mind, before confirming the final book cover or a website design or a company logo. She understands that it may take you a week to present a final template design for a business card.
"As a business owner herself Phyllis understands the frustrations entrepreneurs face. Whether you're a solopreneur rebuilding a business or a local rock band, if you need to rethink a business idea or concept she will listen and offer suggestions to ensure your goals expand in a positive direction. Phyllis is patient and takes the time to listen to you because she is aware that everyone works at a different pace. She takes the time to know how you think in order to know how you work. If, you are looking for someone that will always be honest and not sugarcoat anything, Phyllis is a good fit your business goals. But she will offer suggestions to ensure you're not making important decisions on a whim that may result in wasteful spending."
TJ Johnson-Kea — Author and President of Your Tenacity
YourTenacity.com