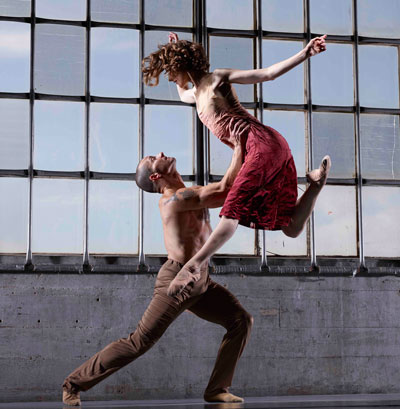 In 2013 I was introduced to Amy Seiwert, of Amy Seiwert's Imagery, a young San Francisco Bay Area ballet company, through a recommendation by another client, Jane Elin, a dance educator. Amy's immediate need was a dance magazine advertisement and brochures for fundraising efforts.
This first project led to a variety of others, including a new logo for her web site, eight years of programs and marketing materials for her annual spring series, SKETCH, as well as multiple fundraising brochures and print advertisements. I was delighted to be introduced to the gorgeous photography created by David DeSilva. His photographic mastery captures the fluidity and timelessness of dance and the incredible skills of the Imagery performers, in a way that is rarely seen as literally as it is in his work.
Sculpting the typography to fit the program images became a creative and intuitive endeavor as I experimented with using the logo fonts in unusual ways. I provided multiple composition and design proofs to ensure that the best images were used and that the content was accurate. Incorporating all of the lists of sponsors and individuals involved in each production was also key as an incentive for future fundraising. [ … Read More ]
I have been responsible for the design, layout, art-editing, typography, proofreading, production and project coordination for most of the online and all of their print media. Including each year's ballet performance program, fundraising brochures, print and online magazine advertisements and a huge ad in 2016 and 2017 on the sides of transit buses in San Francisco and New York City.
SKETCH 7: Wandering, SKETCH 8: Origin Stories, and SKETCH 9: Perspective and SKETCH 10: Wrecked required the same type of print products, although providing online advertising required multiple design layouts using the same imagery. Sadly, due to COVID-19 the performance for SKETCH 10: Wrecked had to be cancelled.
After eighteen months of shutdown Imagery re-emerged in July 2021 with online virtual presentations of three past events — known as SKETCH: Rewind. They streamed for a week to entertain the ballet-starved public. The SKETCH: Rewind event was advertised with multiple social media postings and print postcards.
By August 2021 the artists and choreographers were ready to perform in the new COVID-19 environment. They presented SKETCH 11: Interrupted as a live performance which required everyone to wear masks, including the dancers. I designed online contact-free interactive PDF programs, print postcards, print posters and social media postings. The PDF program was accessed by scanning a QR Code in the lobby to view the PDF on phones and tablets inside the theater. This PDF includes hyperlinks for all participants. Audience members were able to "flip" the program pages and view associated social media accounts. This type of flippable PDF will be a standard for future marketing materials.
SKETCH 12: Dear Diary was presented as a live performance with a online contact-free interactive PDF program. The marketing package included print postcards and posters, as well as social media posts. Like for SKETCH 11: Interrupted the PDF program was accessed by scanning a QR Code on the Program Postcard received at the door to view on phones and tablets inside the theater and later online. This PDF also conveniently included hyperlinks for all participants, choreographers and collaborators.
SKETCH 13: Lucky required a few extra marketing pieces — business cards, program cards and a kiosk poster. The 2-sided business cards were used like small direct advertising, handed out person-to-person. The larger program card was offered to attendees with a QR code to access the full interactive program. I also produced an 11"x17" promotional poster, then re-designed it as a 40"x70" kiosk poster that was featured at the ODC Theater for this performance.
Since SKETCH 13: Lucky was Imagery's last production a small amount of printed programs were provided as final event keepsakes to the company. Amy Seiwert accepted a positon at Smuin Ballet, as Associate Artistic Director and decided to shut down the company. This last event was very special to all involved and has reminded me of what we have accomplished together over the past ten years.
Working with Amy and her company, with the great variety of promotional materials in multiple formats that she needed for SKETCH 13: Lucky, provided a unique opportunity to expand my layout and designs skills. After photographer David DeSilva presented Amy, Annika, and me with a large number of his amazing photos, we would work together to choose the primary image for each event and another several to be used throughout the event programs to showcase the rehearsals and performances.
After settling on the main photo for each event I would then create layouts for the various products needed — postcards, posters, programs, social media ads, and various fundraising mailers. All of these products had different shapes and sizes which continued to feature that main image throughout each event's materials.
Using the same image in so many different shapes — square, landscape, portrait, extreme kiosk and bus queen sizes as well as the standard program, postcard, business card, poster, and mailer — presented major layout challenges. Where other designers might have taken an easier path selecting different images for each differently shaped item, I chose to maintain consistent branding across the board.
It has been a distinct pleasure to work with Amy Seiwert and Annika Presley showcasing the Amy Seiwert's Imagery performances and wish them all great success in the future.
[ Read Less ]
---
Client Testimonials
November 21, 2023
"Collaborating and coordinating Imagery's visual branding with Phyllis Peterson for the past eight years has been an absolute joy. The synergy we have developed over time has enabled us to create a seamless flow throughout our marketing, program, and fundraising materials, resulting in meaningful engagement from our audience and donors. Phyllis' knowledge of our aesthetic and branding and her professional approach have proven effective in conveying our message and building lasting connections."
Annika Presley — Managing Director of Amy Seiwert's Imagery
ASImagery.org
August 1, 2023
"For over a decade, Phyllis designed programs and marketing materials for our annual SKETCH performances. Phyllis is a pleasure to work with, and her sense for design and composition fit brilliantly with our company's aesthetic. Her design perfectly reflects what happens on stage, and I would recommend her to anyone."
Amy Seiwert — Artistic Director of Amy Seiwert's Imagery
ASImagery.org