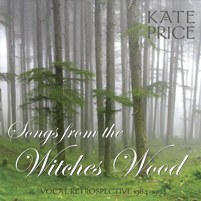 Designing and producing a CD package and promotional advertising for this fabulous Sonoma County, California musician was a delight. Working closely with Kate Price, using her lovely renaissance images, beautiful digital logo, song lyrics, and liner notes made creating a CD booklet quite rewarding. The composition changed and went through many versions as we chose the best background images to complement the lyrics and acknowledgements.
The cover design was simple once we found the appropriate image, and the font choice was a no-brainer for this collection of celtic folk songs. The production of her CD face, 6-page booklet, advertising and promotional materials were consistently created so as to be easily recognized by the local art patrons.
I was responsible for art editing, layout, proofreading and production, as well as creating and coordinating various advertisements in color and black and white, for music catalogs and local newspapers.