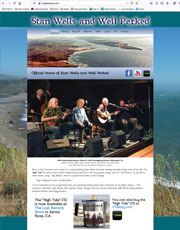 I was asked by Stan Wells to replace Well Perked's existing static web site with a brand new responsive site featuring a fresh graphic concept and design which can be viewed on cell phones and tablets, as well as laptops and computers. The web site project became a collaboration between Magnolia Studio and Muiz Brinkerhoff of InsideSkills.com.
The new site promotes "High Tide" CD sales and allows viewing of Stan's gig photographs and YouTube™ videos of the musicians performing. I provided art editing, proofreading, layout, production, and project coordination. I also added an extensive history of the band with a variety of nostalgic photographs and scans of original handwritten lyrics to improve the old site content.
We currently maintain the site as needed with updates for new gigs and Friday afternoon picking sessions in Tomales Bay, California.
Magnolia Studio also produced the High Tide CD for Stan Wells (see the High Tide CD Packaging Design Portfolio page).
Client Testimonial
January 31, 2014
"I am delighted to have chosen Magnolia Studio to help me with my High Tide album release. Phyllis poured her enthusiasm and creativity into every aspect of the project. Services included album cover and booklet design, web site design and construction, and electronic transmission of the artwork to the CD manufacturer. The process of working with Magnolia Studio was collaborative with quick turn around and excellent results every step of the way."
Stan Wells — Singer/Songwriter
WellPerked.com