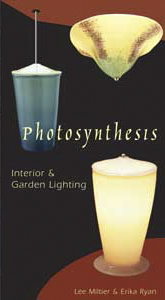 I am often overwhelmed with respect and awe for the creativity and talent seen in the art forms and techniques manifested in the work of other artists. Glass-blowing and the people who make this art by taking tubes of colored glass, heating and manipulating them, thereby producing an amazing and functional piece of artwork, are magicians!
Our friends in Berkeley, California were branching out with their glass art and needed a brochure to engage the local wholesale and retail communities. They provided me with digital images of each of their handblown lamps, lit and unlit. I decided to present them on a black background to highlight the colors and shapes. To achieve that goal each digital photograph needed to be silhouetted and then color corrected, to brighten the unlit ones and tone down the lit ones. I also had to construct a basic generic style for the cable supporting the lamps and arrange the outdoor lamps with their background foliage to complement the outside of the brochure.
I produced this full color, 14x8.5 inch, tri-fold marketing brochure (including retail and wholesale price list inserts) for their hand-blown glass interior and garden lighting company. I also coordinated the editing and proofreading of the pricing lists and arranged for printing and quality control reviews of the folding and final proofs.